M&Z (Marketing) Ltd celebrates its upcoming 100th Anniversary
M&Z (Marketing) Ltd celebrates its upcoming 100th Anniversary
Press Releases | 01.10.2021 | M&Z Ltd.
In 2022 M&Z (Marketing) Ltd celebrates 100 years of operating in the Maltese food, home care, personal care and baby care industries through importing, distributing and marketing key brands to the local consumer.
"The journey that started 100 years ago continues today as we strive to deliver exceptional value for all of our stakeholders, including employees, suppliers, customers and the community," said Paul Camilleri, Executive Director, M&Z Limited. "Nowadays the market is very different to what it was in the past, but we have embraced the changes, harnessed new technologies all the while never forgetting our entrepreneurial roots and the people who have helped build the Company into the market-leader it is today."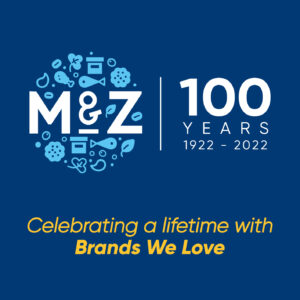 As part of it's landmark anniversary, the Company has embarked on a corporate brand refresh, as well as launching a new company website and a Direct-to-Consumer website.
"Reaching our 100-year anniversary is a testament to the commitment and dedication of our past and present employees, as well as the trust our customers have placed in us to deliver superior service and products," said Greta Camilleri, Director at M&Z. "As a leader in the Maltese FMCG sector, we are excited to celebrate this achievement and inspired by the past to build an exciting future by bringing innovative supplier distribution solutions, an even wider portfolio of quality products and exceptional service to the market."
Through this anniversary campaign the Company aims to raise its corporate profile among local consumers through a series of mediums which aim to showcase just some of the brands which the Company is proud to represent. A list of all brands which the Company represents can be found at Our Brands | M&Z Ltd.
Share this article on social media
news | Press Releases
This Festive Season Win a Play Kitchen With What's In Store for Kids & Whimsy Castle
Read article