BBQ goals? The Santa Maria range has a variety of products which are sure to make your BBQ a success!
It's summer and we can meet up again, which means it's also barbecue season again. It is easy to be tempted to just put a few pieces of meat and chicken on the BBQ whilst enjoying a beer or two. However, with some preparation, the right ingredients and of course, good cooking skills, the potential is there to make your meat and chicken taste amazing. Here we will tell you about our favourite BBQ ideas and how the Santa Maria range helped us cook out a success.
A good BBQ session gives us that feel-good factor. It is a social occasion that makes us come together. Personally, it is one of the best things about summer. Whilst meat is the protagonist in every BBQ, there are also a number of supporting actors which contribute to the overall success of the event.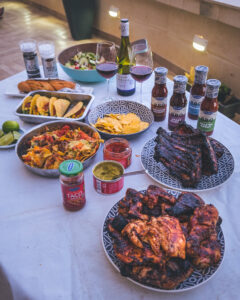 Chili Con Carne
Chili con carne coupled with nachos is one of our favourites. My recipe for chili con carne is simple but always works a charm. In some olive oil, fry a chopped onion with some garlic then add the minced meat and then the Santa Maria chili mix, keep cooking and add the red kidney beans when almost done. Finish off with the oregano and, if you wish, some sugar.
Keep some of the Chili con carne mix and use it to create some great loaded nachos. Here the key is cheese! Loads of it. I like to use a mixture of cheddar and red leicester. Put it in the oven for around 10 to 15 minutes and then serve with guacamole and salsa.
Tasty Tacos
Want to impress? Tacos are great! Mexican food overall is amazing. Whilst difficult to prepare tacos as good as the Mexicans do, it does not mean you should not give it a go. On the contrary, with the right ingredients from the Santa Maria range and some creativity, you'll end up preparing amazing tacos!
A good taco consists of a protein filling wrapped in carbs, topped with fresh vegetables. This means a taco has all the nutrients and calories you need in one perfect package.
Apart from being delicious they are also easy to prepare. Cook some minced meat and combine it with the Santa Maria taco mix, saving yourself all the hassle of adding various spices but, still with excellent results. Fill up those taco shells.
I like to put them in the oven for a bit then finish off preparation by filling them up with salad, cheddar cheese and of course, the taco sauce. The Santa Maria taco sauce has all the tangy tomato taste and is not too spicy. Compliments very well the saltiness of the taco shells. Don't forget a squeeze of lime for extra tanginess.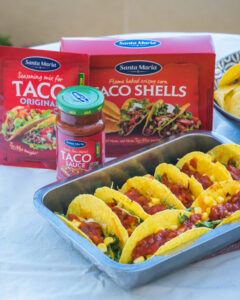 Nacho Chips and Dips
If you don't feel the need to complicate matters and simply want to enjoy some Santa Maria nacho chips with dips, it's perfectly fine! We had guacamole and salsa, both of which we enjoyed.
We certainly enjoyed the first part of the BBQ. If the loaded nachos and tacos were not enough, the nachos and dips worked very fine with beers, whilst I was taking care of the meat.
Perfect Pork Ribs
For the sake of this article, we will assume you have a basic idea how to prepare a flame, and have a basic understanding of BBQ meats. In any case, don't forget to stay safe!
Preparation is key. We made sure to rub our pork ribs with the Santa Maria Classic American rub a few hours before the bbq. Massage it well and let the meat infuse those spices. The salt and ingredients will break down the meat, open protein chains and make room for it to absorb more moisture.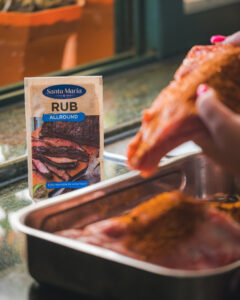 After that, it's cooking time. Aficionados will disagree on the terms 'barbecuing' as we know it. For us, a BBQ is placing meats on direct and controlled heat (a high flame would burn everything), high temperatures and not taking long hours. In the United States, for example, barbecuing is the art of slow cooking on a low indirect heat and involving wood smoke. For them, we don't barbecue, we grill.
Slow cooking leads the meat to that state of 'fall-apart tender', and textural sensations of succulence. To get that constant flame, I like a mix of 'red wood' (injam tal-ahmar) or apple wood with charcoal, which I find gives me the best of both worlds. I definitely prefer this way rather than a gas BBQ (though, admittedly, a gas BBQ is less of a hassle)
Then, there are the sauces. There's nothing quite like a rack of ribs, with moist meat and dripping tasty barbecue sauce. Getting those ribs cooked properly with a nice coating of sauce which flavors the meat beautifully, requires patience and strategy.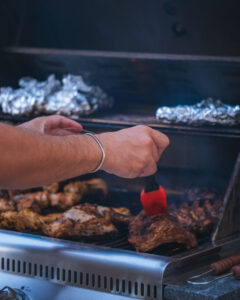 BBQ Sauces contain sugar, so do not start splashing the sauce too early. Those sugars will burn and give your ribs a bad taste. Do not leave it too late either. Coating your ribs and chicken too late will not give your food the chance to absorb the delicious flavors of the sauce during the cooking time, when the ability of the meat to soak flavors is at its peak. I personally like to apply a sauce about 15-10 from when I think the food will be done. For ribs, even 20-30 minutes before should be fine.
Choosing a Sauce
There are a multitude of BBQ sauces to choose from. What did we think of the Santa Maria range? We were fortunate enough to get to try the four types of Santa Maria BBQ sauces, the original, roasted garlic, bourbon whiskey and smoky hickory.
The Santa Maria smoky hickory has an earthy, smoky flavour with a touch of sweetness which we thought was very enjoyable. My favourite is the Whiskey sauce, which has all the greatness of the classical BBQ sauce but with a not insignificant kick from the whiskey flavour.
A bit more spicy and tangy was the Santa Maria Roasted Garlic sauce. We found it went really well with the chicken pieces. Of course, there is also the Santa Maria Classical BBQ sauce, and here there are no flavours other than a straight up, BBQ sauce with a little tang and sweetness, and just enough smokiness. We chose not only ribs but also chicken thighs, drumsticks and breast.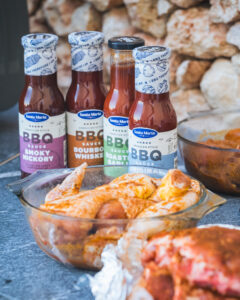 We prepared a few hours beforehand and marinated the chicken in the Santa Maria Marinade for Chicken. The result after cooking was a pleasant-tasting marinade, which reminded us of a traditional whole grilled chicken. The marinade is perfect for both chicken pieces or else a whole chicken.
Whether you wish to serve additional sauce on the side when serving is totally according to taste. Personally, I like plenty of sauce directly on the meat, then let my fingers do all the work!
Original article by OMGFoodMalta.
Share this article on social media
blog | Get Creative!
These 7 Emborg cheese recipes will make your party a sure success!
Read article