The Christmas decorations are up, the presents are wrapped, and the kitchen is prepped and ready to cook a delicious holiday feast. But before the doorbell rings bringing family and friends, it's time to think about dressing your table with some festive decorations. Don't know where to start? Here are four easy ways to style the dinner table for the holidays.
Set the Scene
Centrepieces are at the heart of your table, carefully chosen to set the scene for a holiday meal. However, before you bring out the garlands, pine cones, and fairy lights, you need to start from the bottom. For your base, you want to start with a tablecloth. For a more traditional feel, white, red, or green are a must but if you want to add a layer of colour or play with different textures choose a contrasting runner to bring it all together. If this feels too busy, let the table's natural texture come through with a simple runner through the centre.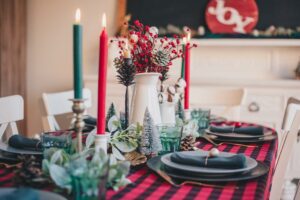 Lay the Table
Dressing your Christmas table is always a special treat. Choose your favourite matching dinner set and lay it all out, evenly spaced across the surface. To elevate your presentation lay the cutlery with a beautiful napkin, completed with a ring for a charming finish.
Choose the Right Stemware 
Are you drinking wine, champagne, martinis, or a glass of scotch? Consider what's on the menu and choose the appropriate glassware to match your dinner set. To continue the holiday theme, try curling a piece of ribbon across the stems for some holiday fun.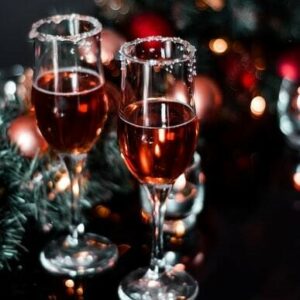 Set the Mood
Do you have a Christmas theme running throughout the house? If you do, don't let it stop before it reaches the dining room! Capturing the winter spirit indoors is all about the little details you bring out in your decorating. Before your guests arrive, create handmade place cards with their names to make it easy for them to find their place at dinner. This is not only a great table accessory but paired with holiday crackers, will make your guests feel special and excited for the rest of the night.
Once everything is nice and ready, top it off by lighting some scented candles and your favourite music playlist to create a magical Christmas ambience.
What are You Waiting for?
This Christmas break, maybe even more than others, is a time to treasure being able to get together with our family and friends over a holiday meal. The picture you paint with your table setting and backdrop becomes the foundation for memories to come, so whatever Christmas decorations you may pick to dress your table, it is a good idea to consider the different options available.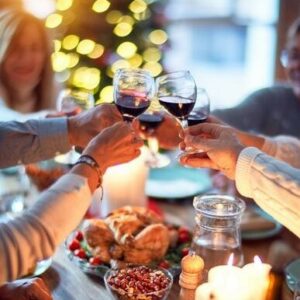 Original article by Beatrice Migneco.
Share this article on social media