Sun Protection For Children
We all know how much children love splashing around in swimming pools, building sandcastles on the beach, or even just running around in the sun. But how can we protect their delicate skin from harsh UVA and UVB rays, while allowing them to enjoy as much fun in the sun as they want? Baby and children's skin is much more sensitive than adult skin and is more susceptible to sun damage, so it's important that we make children's sun protection a priority – this means using sun cream specifically designed with kids in mind…
Spray, Roll-on Or Cream – Why Our Sun Cream For Kids Covers All Bases
Childs Farm want everyone to be happy in their skin, their range of sun cream for kids is mild, gentle and moisturising enough so that all skin types are protected from the sun's harsh UV rays, without causing irritation. Childs Farm fragrance free suncream has got you covered; available in SPF 50+, the range protects young and sensitive skin from UVA and UVB rays. The range is also water resistant, so you can rest assured that you and your little ones have protection whilst playing in the pool or sea. The best bit? It comes in two formats – a traditional sun lotion or a sun cream spray, so the whole family can apply their own sun cream with ease.
Why SPF 50+ Sun Cream?
SPF 50+ is the highest Sun Protection Factor category in the EU and offers very high protection against UVB rays – Childs Farm's is actually 67 when tested. This means that the SPF 50+ is a great choice for children and adults with pale or very pale skin or who burn easily.
UVA & SPF Tested And Approved By Which?
Childs Farm are absolutely delighted that their suncare range was selected to be tested and reviewed by Which? and passed their rigorous UVA & SPF tests! The level of innovation that goes into ensuring that their suncream is not only suitable for sensitive skin, but also safe for eczema-prone skin is something that they're really proud of and having this seal of approval is fantastic.

Our Top Tips For Keeping Babies And Children Safe In The Sun
The UK's NHS recommends that babies under the age of six months should be kept out of direct strong sunlight. Keep newborns in shady areas or under a big umbrella, and make sure they're wearing long trousers, long sleeves and a hat.
Babies in the pram should be covered – keep checking the direction of the sun to make sure it isn't shining directly into the pram.
For young children, always use sunscreen that's SPF 50+ and offers broad spectrum protection against both UVA and UVB rays.
Make sure to apply SPF generously at least 15 minutes before sun exposure – rub in well and wait for sun cream to be fully absorbed! It's recommended that a child needs around four teaspoons of sun cream per application.
Cover any exposed areas with sunscreen, and also apply it under clothes which have no UV protection.
Make sure your children always wear a hat and quality sunglasses, so they're protected from top to toe!
Reapply sun cream frequently every 1-2 hours, and always after perspiring, swimming or towelling. A reduced quantity will lower the level of protection significantly.
Avoid the sun between the hours of 10am and 4pm – this is when it's at its strongest!
Do not stay too long in the sun, even when using a sunscreen product.
Keep children hydrated by giving your little ones a big gulp of water every 20 minutes.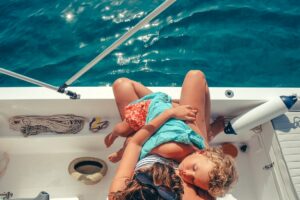 Saskia Sills Shares Why Sun Care Is So Important To Her
Training for hours on end on the open water and in the direct sun, Childs Farm's Sustainability Ambassador Saskia Sills is passionate about the importance of sun protection for both children and adults…
"SPF is so important to me because my career and lifestyle means that I am outside in the elements most days. My dad is a doctor and my mum was a nurse and so since a very young age I've always been taught the reasons why we must protect our skin from UVA and UVB rays and that it's important to use cream whenever there may be UV rays. My rule is that if there's shadows – there needs to be sun cream on my skin. Using sun cream everyday has always been a non-negotiable in my family. Child's Farm sun cream is excellent, it's water resistant which means it doesn't run off and it's also very kind to my sensitive skin. When I'm out on the water for hours at a time it's great to know that my skin is protected." – Saskia Sills

Locally the Childs Farm range can be found in supermarkets, baby shops, selected pharmacies and on our website.
Share this article on social media