From enjoying the sun and feeling the elements to simply changing their scenery, going outdoors is great for your little ones! This allows them to experience new objects, colours, interactions and beings, whilst also providing the best surroundings to utilize their senses.
Any outdoor activity is not just a pleasurable, fun little action for your little one, but it is also a great source of stimulation for your baby and toddler. Read on for some tips and tricks on the best ways to organise your daily walks!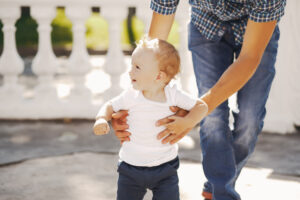 Clothes
Wearing multiple layers is going to be your new best friend. It is incredibly important for your baby to be in the appropriate clothing. And as we all know, Maltese weather can be quite temperamental. Therefore, having options could mean the difference between your child being all snuggled up or feeling super cold and uncomfortable. Likewise, for when the weather takes a more positive turn, and the sun comes out. This gives you the option to remove a jumper or jacket which could make your child more comfortable.
Changing Bag
Short or long trips, you need to be prepared for anything. It is always better to always have a bag prepared and never need it, instead of not having a bag or not feel properly equipped and run into an emergency.
We recommend carrying two sets of spare clothes and other must haves like nappy cream, cotton squares, and wipes, regular and soother wipes! Just in case a situation arises, you never know what could happen! Additionally, keep a plastic bag for any dirty clothes that you're changing your baby out of, in order to keep your bag that little bit cleaner!
We also recommend bringing anything anti-mosquito with you to protect your baby against any mosquitoes. Chicco anti-mosquito products are made from natural ingredients, specifically formulated to care for your children's delicate skin. The products include melissa and crabwood oil, which are known natural mosquito repellents. Chicco offers a number of different products to combat the pesky mosquitoes. Giving you a great selection of sprays, roll-ons, wipes as well as devices to keep the mosquitoes out of your child's immediate surroundings.
Nibbles and Sips
Going out and about can result in a plethora of instances, emotions and sensations. One of these sensations can be hunger due to all the stimuli your baby is facing. Therefore, it is super important to have a snack on hand. Our Snacks page has all the options you could ever need when it comes to that department! From fruit snacks to biscuits to pouches, there is something your little one will love and devour! Try to make feeding easy with containers and silicon bowls and plates for every occasion, cold and hot.
To go alongside the snacks, Chicco also offers a number of cute and stylish baby bottles and toddler cups. This means that you will never be without a bottle or cup. Don't forget to always keep your bottles clean with the Chicco Microwave Steriliser.
Lightweight Stroller
You might decide to go for a nice walk away from home, along the coast or front. This means that having a lightweight and easily maneuverable stroller is key to a streamlined, outdoor experience. Easily foldable features on your stroller are essential. It is essential to have a prepped stroller for all weather conditions. This can either mean having a cover for the rain, or a sun protector.
Find all your stroller needs and travel accessories on our Chicco page!
Share this article on social media