M&Z Ltd donates to Foodbank Lifeline Foundation
M&Z Ltd donates to Foodbank Lifeline Foundation
Corporate Social Responsibility | 24.11.2020 | M&Z Ltd

M&Z donates to Foodbank Lifeline Foundation from their vast range of non-perishable essentials in store. This foodbank helps 1000s of people annually facing a short-term crisis through the provision of emergency food supplies.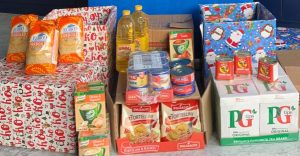 The Foodbank believes that no child or adult or family should ever experience hunger. As such, the aim is to ensure enough emergency food for the short-term until a long term solution is reached. This food is given out to people who are experiencing a crisis identified by care professionals working in agencies.  Such agencies include Appogg, Sedqa, Caritas and Child Protection among others. These people are given non-perishable food items which are nutritionally balanced to cover them up to 7 days. Moreover, the Foodbank also caters for special dietary requirements and is committed to helping all who are in need regardless of religion, colour, race or gender. The goal is not just to provide food but also to meet people's needs.
M&Z donates to Foodbank through employee donations which were used to buy essential food items offered by M&Z. The donation was then rounded up by our directors for a more generous food donation. Such food items included oil, rice, tea, pasta, soups and tuna among others.
The Foodbank is not a government entity and relies solely on the generous donations of people. If you would like to help, m
ore info can be found on their Facebook page.
If you need ideas of what items to buy you may find M&Z non-perishable cupboard items in our
Online Store
Share this article on social media
news | Corporate Social Responsibility
M&Z Ltd. Think Pink Initiative in Support of Action For Breast Cancer Foundation
Read article
news | Corporate Social Responsibility
M&Z Ltd Celebrates Breast Cancer Awareness Month With the Think Pink Initiative
Read article