Whether celebrating a birthday, an anniversary, a wedding, or simply just because, cakes and bakes are treats loved by virtually anyone. Yes, we all have our own different tastes, but there's something for everyone, regardless of where in the world we are – that even includes the ingredients we all use.
Let's talk about Stork, a tasty spread used in baking. It is known for its unique taste and way of creating melt in the mouth pastries, perfect muffins, cakes, and bringing out the flavour in virtually anything it's used for.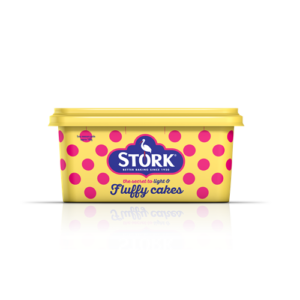 Stork made its first appearance way back in the 1920s. A whole century later, it is still a must-have product found in millions of fridges and baked goods around the world. Its fame started growing in the 1940s, when Britain launched The Stork Cookery Service, where housewives were given ideas of how to produce good and nutritious food like meat-free pies and egg-free cakes despite the lack of resources during WW2. Forever bringing people together, 250,000 women formed part of the Stork Wives Club by the 1960s. They would share recipes and different ways of using baking with Stork for family meals and catering for events.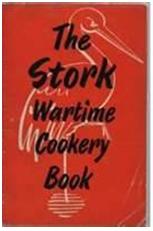 Fast forward to the 20th century, Stork continues being the secret ingredient for light and fluffy cakes. It now comes in various shapes and forms such as the 'Stork Original Spread', and the 'Stork Baking Block' – the latest vegan version. The Stork Original is ideal for muffins, brownies, light cakes, whereas the Stork Baking Block is perfect for biscuits, scones, crumbles, flapjacks, and other pastries.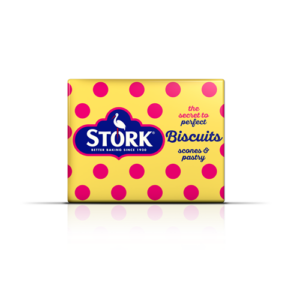 Life may have changed since WW2 but baking sweet treats with Stork remains a fun activity which everyone enjoys, especially during the holidays. Christmas is the perfect time to grab those aprons and have some fun with the kids – gingerbread men, Christmas pudding, the list is endless.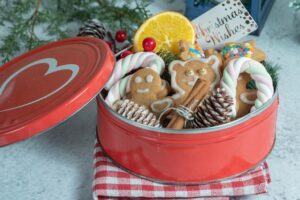 M&Z Ltd. has made sure to stock all local supermarkets and grocers with Stork products to make it easy for you to share some baking goodness with all the family. So, you're ready to get the fam together for a baking session but need inspiration? No problem, we've got your back. Check out these tasty cake recipes and try them out today:
Winter Wonderland Cake – the perfect alternative to traditional Christmas cakes
Ingredients:
300g packet tropical fruit medley
115g (4 oz) dried cranberries
85g (3 oz) dried sour cherries
Finely grated rind and juice of 1 large orange
225 grams Stork
225g (8 oz) golden caster sugar
4 medium eggs
90g (3 oz) ground almonds
225g (8 oz) plain flour
1 ¼ level teaspoon baking powder
Icing and to decorate
65g (2 ½ oz) whole almonds
65g (2 ½ oz) caster sugar
275g (10 oz) icing sugar, sieved
115g Stork
1 tablespoon milk
30cm (12 in) cake board
1 quantity of gingerbread houses
Instructions:
Chop all the dried fruits into small (cranberry-size) pieces. Combine these in a bowl with the orange rind and juice and mix well. Leave to soak for approximately 30 minutes.
Put the Stork, sugar, eggs and almonds in a mixing bowl and sieve the flour and baking powder over. Beat until well mixed then fold in the fruit mixture.
Spoon into a greased and bottom-lined 20cm (8 inch) deep round cake tin.
Bake in a preheated oven at 170°C, 160°C fan, Gas mark 4 for 1¼ hours or until cooked through (a fine skewer inserted in the centre should come out clean). Leave to cool before removing the cake from the tin.
Place the almonds and sugar in a heavy based pan and place over a moderate heat until the sugar melts and turns a golden caramel colour shaking the pan from time to time. Pour onto parchment paper and leave till cold. Place in polythene bag and bash with rolling pin until roughly ground.
Beat the icing sugar, Stork and milk together and spread half over sides of cake. Spread remaining icing over top and sprinkle with the praline mix.
To assemble the cake: make the gingerbread houses and decorate them
To decorate the base board, roll out some of the sugar paste until very thin and lay it over the board. Roll it firmly into the surface of the board and use the rolling pin to smooth paste off the edges. Place the cake on top secured with a little royal icing to stop it moving.
Spread a little royal icing on the back of each house and gently push onto the side of the cake so that the bottom of each one rests on the cake board. Try not to allow any gaps between the houses.
There may be some houses leftover which can be eaten separately.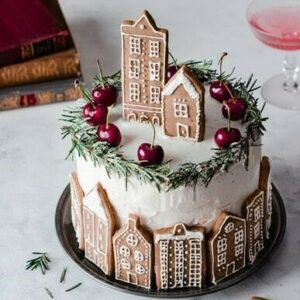 Vegan Carrot Cake – your dairy free piece of heaven
Ingredients:
125g Stork Vegan Block
1 tablespoon lemon juice
100ml soya milk
250g soft brown sugar
225 grams gluten-free self-raising flour and half a level teaspoon of baking powder and half a level teaspoon of cinnamon
175g carrots peeled and finely grated
50g walnuts, roughly chopped
Icing
225g vegan cream cheese
350g – 450g icing sugar
1 tablespoon vanilla extract
Zest of 1 orange (optional)
Walnuts to decorate
Instructions:
Preheat oven to 180 degrees, 160 degrees fan or gas mark 4
Add the lemon juice to soya milk and set aside
Cream together Stork and sugar for 2-3 minutes
Add the sieved flour mixture alternately with the soya milk and mix well
Stir in the grated carrots and walnuts and blend well
Pour into a greased and lined 900g (2lb) loaf tin and bake in a preheated oven for 1-11/4 hours until a skewer inserted into the centre comes out clean
Allow to cool for 5 minutes in the tin before turning out and cooling on a wire tray.
For the icing, beat together the block and vegan cheese. Gradually beat in the icing sugar until light and smooth. Beat in the vanilla and zest if using and spread over the cake
Decorate with walnut halves or chopped if you prefer.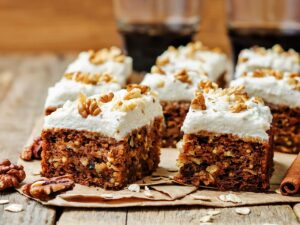 Post written by Claire Said. Recipes by Stork.
Share this article on social media