Flora ProActiv Health Benefits
Flora ProActiv products have a cholesterol-lowering effect because of the added plant sterols. Plant sterols, or phytosterols, are clinically proven to significantly reduce cholesterol absorption from food, thus supporting heart health. Plant sterols naturally occur in small quantities in plant-based foods, including vegetable oils, nuts, seeds, wholegrains, vegetables and fruit. A variety of plant foods should be the basis of a healthy, balanced diet; however, these contain quantities of plant sterols that are too small to have a significant impact on reducing cholesterol. Plant sterols can be found in greater concentrations in ProActiv products.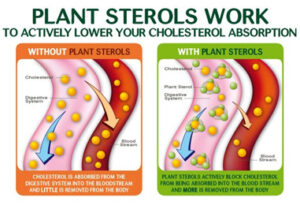 Guidelines for cholesterol management recommend consuming 2-3g of plant sterols per day from plant sterol-enriched foods. A daily intake of 25g (1 rounded tablespoon, containing 2g of plant sterols) can lower cholesterol by up to 10% in 21 days, when eaten as part of a healthy, balanced diet. Continued use of Flora ProActiv can help keep cholesterol down as part of a healthy lifestyle. However, eating more than 3g of plant sterols per day does not provide additional benefits.
Therefore, ProActiv products are most suitable for people with high blood cholesterol levels. They are also suitable for people taking statins; sterols help to lower cholesterol further because they work in a different way to the statin. Foods fortified with sterols have no real benefit for people who do not have high cholesterol.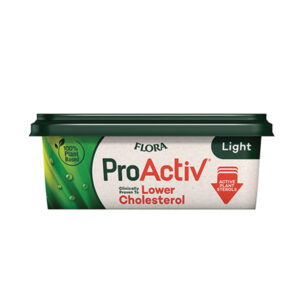 Differences between ProActiv Spreads
Flora ProActiv Light is a 35% low fat vegetable spread enriched with plant sterols to lower cholesterol. It contains 50% less fat than butter or margarine. Flora ProActiv Buttery is churned with buttermilk which contributes to the deliciously creamy and buttery taste whilst still lowering cholesterol due to the added plant sterols.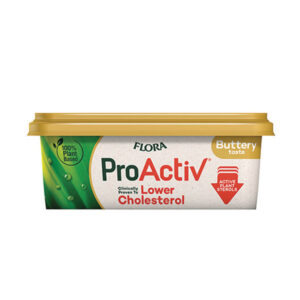 Flora ProActiv Buttery can replace butter or margarine for spreading, cooking, baking, frying, and topping while Flora ProActiv Light, due to its lower fat content, is suitable only for spreading and topping.
Since Flora ProActiv Light contains milk and ProActiv Buttery contains buttermilk, the products are not suitable for a vegan or dairy-free diet. Dairy free and vegan options from the range include Flora Original and Flora Light. Just like other Flora spreads, Flora ProActiv products are naturally gluten free and lower in saturated fat than butter.
Looking to introduce plant sterols into your diet? Try out one of these delicious recipes.
Oatmeal Pancakes with Banana
These pancakes are a fantastic weekend breakfast treat, providing one of your five a day
Ingredients:
15g Flora buttery spread melted
20g Flora ProActiv Light
75g oats
100ml semi-skimmed milk
1 egg
2 bananas
Handful of walnuts
Method:
Mix the oats, milk, egg and 1 banana into a smooth batter with a hand blender.
Heat the Flora Buttery in a pan and make about 3 small, thick pancakes. Cook them on both sides for about 3 minutes. Repeat until you run out of batter.
Brush each pancake with some Flora ProActiv Light spread.
Slice the remaining banana and chop the walnuts.
Make 2 equal towers of the pancakes and finish the top pancake with banana and walnuts. Serve.
Would you like it a bit sweeter? Then pour a little bit of honey over the pancakes.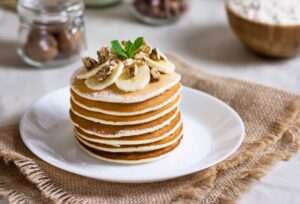 Spinach Risotto
A simple and tasty way to eat your greens and include plant sterols in your diet.
Ingredients:
350g spinach
1 onion
1 clove of garlic
30g Flora Original
125g risotto rice
1 tbsp white balsamic vinegar
1 tbsp tomato puree
Ground black pepper
Reduced salt vegetable stock cube
1 litre boiling water
1 tsp nutmeg
20g Flora ProActiv Light
25g pecorino cheese
Method:
Wash the spinach.
Peel and chop the onion and garlic.
Heat the Flora Original in a pan and fry the onion and garlic on a medium heat. Add the rice and stir fry until the grains are translucent.
Add balsamic vinegar, tomato puree and black pepper and keep stirring.
Bring 1 litre of stock to the boil and add this little by little to the risotto rice. Stir regularly until the rice is cooked and the stock has been absorbed.
Season the risotto with nutmeg and add the spinach. Stir through and allow the spinach to wilt.
Remove the risotto from the heat and stir in the Flora ProActiv Light. Serve with the shaved pecorino.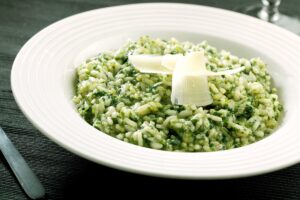 Original article by Healthylicious.
Share this article on social media