Incorporating frozen vegetables into your dinners has never been easier with these 4 nutrition-packed side dish recipes.
Looking for side dishes? Frozen vegetables are a great alternative to having nutritious vegetables on hand no matter what the season. They are just as healthy as freshly harvested vegetables (given that these have been frozen on the day of harvest). They are also very convenient as they can be stored in your freezer for months without losing nutritional value or taste.
Frozen vegetables are also a cheap alternative to buying vegetables out of season. If you are looking at upping your vegetable intake in the easiest and cheap way, stocking up in frozen vegetables is a great idea.
Our freezers are always packed with frozen fruit, vegetables, meats, and of course – but not as healthy – ice cream! A short while ago we made a list of our favourite healthy snacks made from our favourite frozen fruits. This time around, we use our selection of frozen vegetables to make some tasty vegetable side dishes. For our recipes we used Emborg frozen vegetable we used from Whatsinstore. The vegetables we used were broccoli florets, chopped spinach, peas and corn. Each of these frozen vegetables make for great side dishes which complement a main meat or tofu dish.
Here are our selection of frozen vegetables side dish recipes we recommend for your next dinner.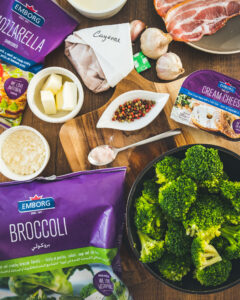 Indian Creamed Spinach
If you're looking for a quick side dish which takes you less than 40 minutes to prepare, this Indian creamed spinach recipe is the one for you. Not only is it full of flavour but also full of nutrients such as vitamin C, vitamin C, vitamin K, iron, folate and potassium.
This side dish is based on the Indian Saag recipe and is very flavourful due to its blend of spices; onion, garlic, ginger, cumin, garam masala, turmeric and cayenne pepper. This dish is best served with some naan bread. You can easily convert this to a main course by adding some potatoes, lentils and, if you should like, some meat.
Here is the full recipe!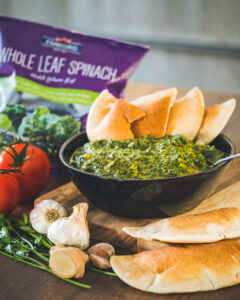 Cheesy Garlic and Bacon Broccoli
This cheesy garlic and bacon broccoli is one of our favourite side dishes because it includes a lot of our favourite ingredients; cheese, bacon and cream. Adding broccoli to our diet is a great way to pump our bodies with healthy vitamins and minerals such as Calcium, Iron, Phosphorus, Potassium, Zinc, Thiamin, Riboflavin, Niacin, Folate and Vitamins A, B6, B12, D, E and K.
This cheesy garlic and bacon broccoli side dish recipe takes only around 30 minutes to prepare. Make sure the frozen broccoli has thawed before preparing. The dish is the perfect accompaniment to most dishes, but most importantly it is very tasty and for sure all your guests will love it!
Make your way to the recipe here.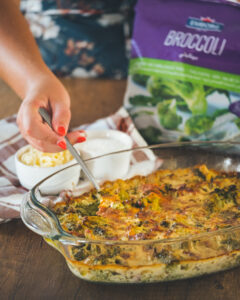 Pea Pesto Pasta with Sun-dried tomatoes
Pea pesto pasta with sun-dried tomatoes is a spin on the traditional pasta with basil pesto recipe which includes peas in the pesto recipe to give it extra volume, vitamins and minerals, and taste, and sun-dried tomatoes to the pasta to give it extra taste and flavour. The joy of peas is that they are not only delicious, but also high in vitamins C and E, zinc, and other antioxidants.
You can easily convert this recipe to gluten free by using gluten free pasta. You can also convert this recipe to a dairy-free/lactose free/vegan recipe by using vegan Parmesan cheese. Apart from being a delicious side dish, you can upgrade on the size and have this as a main course.
For the full recipe, click here.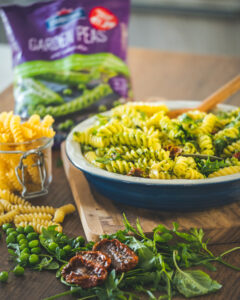 Corn Salad
This recipe is different from the typical salad based on greens. The vibrant yellow colour of this corn salad will not only brighten the dinner table, but also save you some time in the kitchen since it is so easy and quick to prepare. This corn salad takes only 25 minutes to prepare!
Corn is known to have many vitamins and minerals such as Vitamin C, fibre, folate, thiamin, phosphorus and magnesium. In this recipe we use one of our favourite spices of the moment, sumac. Sumac is a spice which is made from dried berries and can be used in many delicious dishes. If you want to bring up the heat, feel free to add some jalapenos.
For the full recipe, follow this link.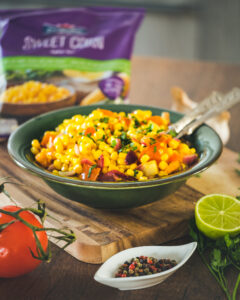 We loved preparing these side dishes and felt all of them added extra flavour and vibrancy to the overall dinner table.
Original article by OMGFoodMalta.
Share this article on social media